Welcome Onboard The Original
Yosemite Mountain Sugar Pine Railroad
BRIAN SIMPSON & STEVE OLIVER
Sunday – September 26, 2021 – 3 p.m.
$125 per person / www.bsimpsonmusic.com
Your individual reserved passenger fare includes:
A Gourmet Picnic Meal
(see selection below)
Round-trip passage to the Lewis Creek Amphitheater
An intimate performance by our featured headline artists in the Sierra National Forest
All passengers booked on the 2021 JAZZ TRAIN are requested to arrive beginning at 2:00 p.m. at the Sugar Pine Rail Station to enjoy the manicured grounds of the venue.
Passengers of all ages and well behaved puppies will have an opportunity to explore the wonders that create the home of the historic Yosemite Mountain Sugar Pine Railroad.
The Yosemite Mountain Sugar Pine Railroad incredible gift shop and the gold panning sluice boxes will be open during your time at the Train Station – "Eureka!"
Please arrive timely and enjoy all responsibly.
We look forward to hosting you in this limited capacity and social distancing environment with a clean and safe outdoor event for an intimate performance with our featured artists.
Upon arrival and easy check-in at the Train Station, passengers will enjoy a pre-selected gourmet picnic meal
with food service beginning at 3:00 p.m.
Guests will be seated at pre-assigned tables surrounded by the wonders of the running mechanics of the Sugar Pine Railroad.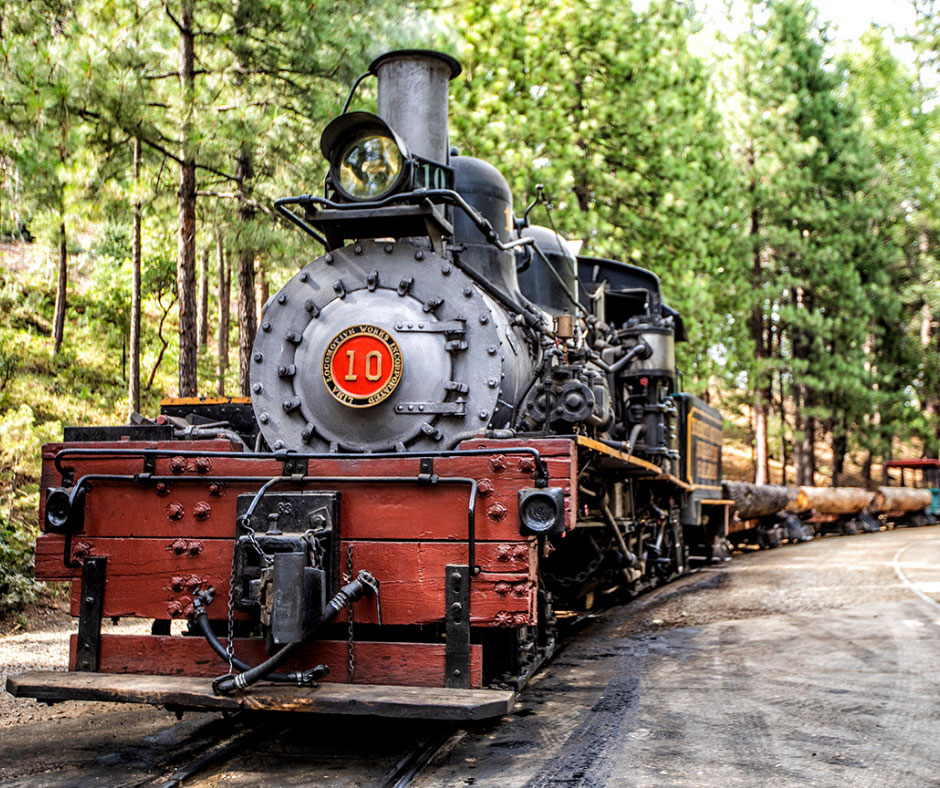 Gourmet pre-show picnic meal at the Sugar Pine Train Station
Included with your Passenger Fare!
Served at the Train Station:
Grilled chicken apple sausage served on a pub bun
with sweet spicy mustard on the side
or
Grilled portabella mushroom served on a brioche bun
with lettuce, tomato and onion.
Herbed red potato salad with mustard vinaigrette
and
Shredded kale and brussel sprout salad with
apples and maple shallot dressing.
Homemade bread pudding with whipped cream.
Lewis Creek Amphitheater:
Assorted cookies, homemade chocolate chip
and walnut, snickerdoodle and gingersnaps.
For your enjoyment, a cash bar of your favorite craft beer, wine and assorted drinks and waters will be available for purchase at the station and theater.
All beverages may accompany you on the Jazz Train.
The whistle on the Shea #10 JAZZ TRAIN will blow at the top of the hour and all onboard for a magical guided excursion to the intimate Lewis Creek Amphitheater.
Enjoy the rustic feeling in an open air Logger or Train car as we travel on the original 3ft narrow gauge railroad tracks and learn the amazing history on a narrated tour by our conductor as we wind our way down to the performance venue.
Yosemite Mountain Sugar Pine Railroad
JAZZ TRAIN
Lewis Creek Amphitheater Stage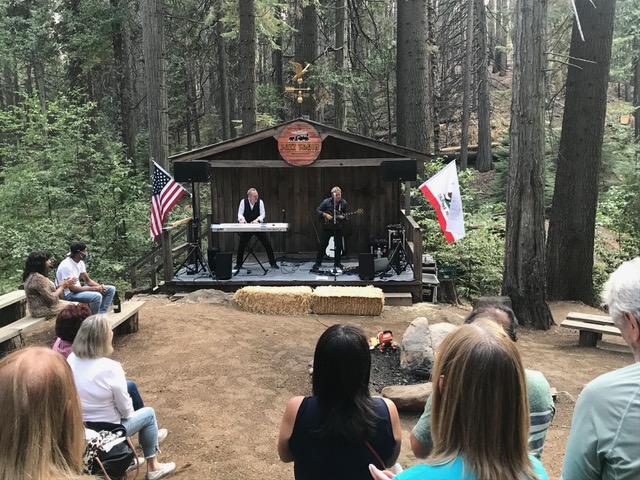 Social distancing seating is provided at the Lewis Creek Amphitheater for our 2021 Season. Guests are welcome to bring a blanket or cushion for added comfort. Photographs and smart phone video are encouraged from your selected seat.
At the conclusion of the concert the engineer's whistle
of the Shea #10 JAZZ TRAIN will blow and all passengers
are requested to be re-board for our 6:00 p.m. arrival at
The Sugar Pine Railroad Train Station.
Passenger fares are limited for these intimate performances
The Yosemite Mountain Sugar Pine Railroad
Two historic Lima Shay locomotives and Jenny rail cars
The Jazz Train – SHAY #10
Built by Lima Locomotive Works of Lima OH. in March of 1928 for the Pickering Lumber Corporation's West Side Lumber Company's operations in Tuolumne, CA. The largest narrow gauge Shay built. Purchased from West Side Lumber Co. in 1967 by Yosemite Mountain Sugar Pine Railroad and assumed the starring role as the only steam locomotive on the old Madera Sugar Pine Company track.
Type: 3 cylinder, 3 truck Shay geared
C-3 70 ton class
Cylinder Size: 12" dia X 15" stroke
Boiler: 200 psi, superheated steam
Weight: 81.6 tons
Capacity: 1200 gals. fuel oil
3500 gals. water
Yosemite Mountain Sugar Pine Railroad
56001 California 41
Fish Camp, CA 93623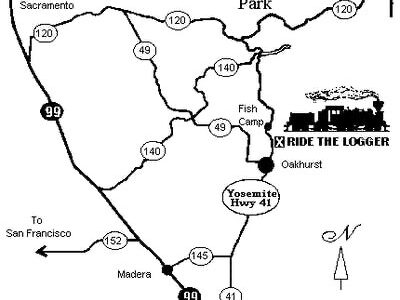 Please enjoy one of these three exclusive
three-hour private journeys in the
Sierra National Forest near the
southern entrance to Yosemite National Park